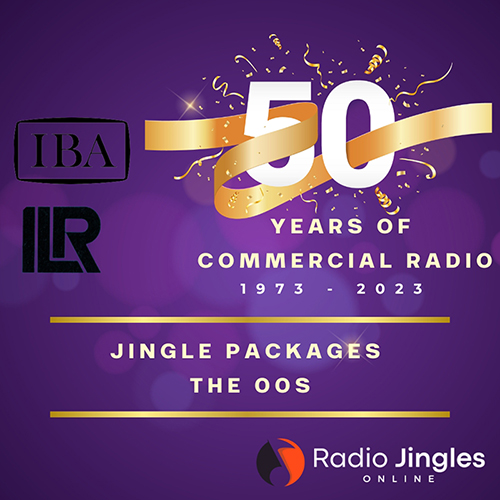 The 00s saw a big period of consolidation and rebranding across Commercial Radio in the UK with the Capital Radio Group/GWR Group merger and subsequently the GCap/Chrysalis merger into Global and the expansion of the Heart brand
Radio stations in the 00s had jingles from companies including IQ Beats, JAM Creative Productions, Jones TM, Music 4, Reelworld and Wise Buddah for their jingles. Below are some great examples of 00s jingle packages for a range of radio stations.
IMPORTANT – Please check back as more packages will be added as Radio Jingles Online will be celebrating the 50th Anniversary of Commercial Radio for the next 20 days (ending 27th October)
**All audio is downloadable – enjoy**
---
DISCLAIMER: All audio featured on this website remains the IP of the respective companies and is protected under copyright.
---
NEW: Jones TM Mini Mix #17 – Atlantic FM (2006) (Custom)
---
NEW: Music 4 Mini Mix #10 – Bright 106.4 FM 'Brighton' (2003) (Composite)
---
NEW: Music 4 Mini Mix #31 – Capital Gold (2003) (Custom)
---
NEW: IQ Beats Mini Mix #29 – 105.4 Century FM (2003) (Custom)
---
NEW: IQ Beats Mini Mix #35 – 96.4 Eagle Radio (2007) (TFM)
---
NEW: Reelworld Mini Mix #15 – Essex FM (2007) (Hallam FM)
---
NEW: Wise Buddah Mini Mix #10 – Exeter FM (2008) (Contemporary Cuts)
---
NEW: Thompson Creative Mini Mix #18 – Forth 2 'Edinburgh' (2002) (First Class)
---
NEW: Music 4 Mini Mix #1 – GWR (2007) (One Network)
---
NEW: IQ Beats Mini Mix #4 – Heart 106.2 'London' (2004) (Custom)
---
NEW: Music 4 Mini Mix #15 – Horizon Radio (2007) (One Network)
---
NEW: Wise Buddah Mini Mix #1 – Invicta FM 'Kent' (2006) (Custom – James Heming & The Morning Zoo)
---
NEW: Reelworld Mini Mix #70 – 107.2 Juice FM 'Brighton' (2000) (Kiss London)
---
NEW: Jones TM Mini Mix #11 – KCFM (2007) (Custom)
---
NEW: Reelworld Mini Mix #84 – Key 103 'Manchester' (2003) (Custom)
---
NEW: Music 4 Mini Mix #3 – Kick FM 'West Berkshire' (2004) (Island FM '03)
---
NEW: Reelworld Mini Mix #25 – Kiss 100 'London' (2000) (Custom)
---
NEW: Jones TM Mini Mix #6 – KMFM – The Tony Blackburn Show (2007) (Miami Coast)
---
NEW: IQ Beats Mini Mix #37 – LBC 97.3 'London' (2008) (Custom)
---
NEW: Music 4 Mini Mix #6 – Magic 105.4 'London' (2007) (Custom)
---
NEW: Reelworld Mini Mix #64 – Metro Radio (2003) (Composite)
---
NEW: Wise Buddah Mini Mix #28 – Power FM 'Hampshire' (2006) (Custom)
---
NEW: Jones TM Mini Mix #21 – Q103 (2008) (Viking FM)
---
NEW: Music 4 Mini Mix #2 – Real Radio 'North West' (2009) (Custom)
---
NEW: Bespoke Music Mini Mix #3 – Real Radio 'Yorkshire' (2007) (Custom)
---
NEW: Vibe Music Mini Mix #5 – Red Dragon FM 'South Wales' (2001) (Capital FM '00)
---
NEW: Bespoke Music Mini Mix #11 – Silk FM (2002) (RIL Package B)
---
NEW: IQ Beats Mini Mix #37 – Splash FM 'Worthing' (2008) (Heart 106.2 2004)
---
NEW: Bespoke Music Mini Mix #6 – 107 Swan FM (2001) (Composite)
---
NEW: Reelworld Mini Mix #67 – Tay AM (2005) (WSNI 2004)
---
NEW: Music 4 Mini Mix #8 – The Breeze 'South' (2009) (Custom)
---
NEW: Jones TM Mini Mix #2 – The Revolution (2008) 'Steve Penk At Breakfast' (Composite)
---
NEW: JAM Mini Mix #208 – The Severn (2006) (Composite)
---
NEW: IQ Beats Mini Mix #21 – Time 106.8 'South East London' (2006) (Composite)
---
NEW: Jones TM Mini Mix #16 – Touch Radio 'Warwick' (2008) (TFM Radio)
---
NEW: IQ Beats Mini Mix #32 – Valleys Radio (2005) (Wireless Group Custom)
---