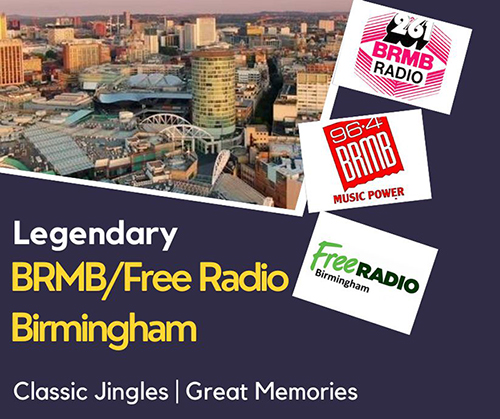 BRMB/Free Radio 'Birmingham' features some great mixes and demos of jingles produced by MMI/TM Productions, On The Sly, Groove Addicts, Wise Buddah and more.
Note: More jingles and imaging will be added when they have been digitised.
Bonus: I've added a mix of jingles for Free Radio 80s, the AM service of BRMB that was formerly Xtra AM/Captial Gold/Gold.
**All audio is downloadable – enjoy**
---
DISCLAIMER: All audio featured on this website remains the IP of the respective companies and is protected under copyright.
---
NEW: David Blaxhall Mini Mix #1 – BRMB (1974) (Custom)
---
NEW ADDITION - 2nd July 2023
NEW: Sue Mannning Mini Mix #11 – BRMB (1979) (Custom)
---
NEW: MMI Mini Mix #11 – BRMB 261 'Birmingham' (1982)
---
NEW: BRMB 'Birmingham (1984) – Demo – MMI
---
NEW: BRMB 'Birmingham' (1986) – Demo – MMI
---
NEW: BRMB 'Birmingham' Blooper Tape
---
NEW: BRMB 'Birmingham (1988) – Megatron – Demo – Sound Ideas
---
NEW: BRMB (1989) – Demo – TM Productions
---
NEW: TM Productions Mini Mix #29 – BRMB 'Birmingham' (1989) (Direct Ht)
---
NEW: TM Century Mini Mix #51 – BRMB FM 'Birmingham (1990) 'Never Aired'
---
NEW ADDITION - 9th October 2023
NEW/BETTER QUALITY COPY: BRMB 'Birmingham' (1991) – Demo – MMI & TM Productions
---
NEW: MMI Mini Mix #12 – BRMB 'Birmingham' (1991)
---
NEW: BRMB FM (1993) – Demo – MMI / TM Productions
---
NEW: Brian James Mini Mix #3 – BRMB 'Birmingham' (1994)
---
NEW: BRMB 'Birmingham' (1995) – Demo – Who Did That Music
---
NEW: Groove Addicts Mini Mix #4 – BRMB 'Birmingham' (1995)
---
NEW: BRMB 'Birmingham' (1995) – News – Groove Addicts
---
NEW: BRMB 'Birmingham' (1995) – Travel News – Groove Addicts
---
NEW: Reelworld Mini Mix #24 – BRMB 'Birmingham' (1999)
---
NEW: TM Century Mini Mix #48 – BRMB 'Birmingham' – Les Ross In The Morning (2000)
---
NEW ADDITION - 2nd July 2023
NEW: BRMB 'Birmingham' (September 2000) – Demo – Vibe Music & Audio Imaging
---
NEW: Vibe Music Mini Mix #8 – BRMB 'Birmingham' (2000) 'Add Ons'
---
NEW: Vibe Mini Mix #7 – BRMB 'Birmingham' (2001) 'Add-Ons #1'
---
NEW: Vibe Music Mini Mix #9 – BRMB 'Birmingham' (2001) 'Add Ons #2'
---
NEW: BRMB 'Birmingham' (2001) – News – Vibe Music & Audio Imaging
---
NEW: BRMB 'Birmingham' (2001) – Travel – Vibe Music & Audio Imaging / Bruce Hamil
---
NEW: Groove Addicts Mini Mix #16 – BRMB 'Birmingham' (2002)
---
NEW: Groove Addicts Mini Mix #17 – BRMB 'Birmingham' (2003) – The Big Drive Home
---
NEW: BRMB 'Birmingham' (October 2003) – News – Groove Addicts
---
NEW: BRMB 'Birmingham' (2003) – Travel – Groove Addicts
---
NEW: BRMB 'Birmingham' (2003) – Liners – Jon Briggs
---
NEW: BRMB 'Birmingham' (2003) – Work Place Anthems Sweepers – Company Unknown
---
NEW: BRMB 'Birmingham' (2003) – The Party Sweepers – Company Unknown
---
NEW: BRMB 'Birmingham' (2003) – Halloween Sweepers – Company Unknown
---
NEW: BRMB 'Birmingham' (2003) – Hall Of Fame 2003 Imaging – Groove Addicts / Unknown Voices
---
NEW: BRMB 'Birmingham' (2003) – Christmas Imaging – Groove Addicts / Unknown Voices
---
NEW: BRMB 'Birmingham' (2004) – Hour Openers – Company Unknown
---
NEW: Groove Addicts Mini Mix #8 – BRMB 'Birmingham' – The Big Brum Breakfast (March 2004)
---
NEW: BRMB 'Birmingham' (March 2004) – Rick Vaughan In The Evening Sweepers – Company Unknown
---
NEW: On The Sly Mini Mix #4 – BRMB 'Birmingham' (2006) – Information Beds
---
NEW: Wise Buddah Mini Mix #16 – BRMB 'Birmingham' (2008) (Custom)
---
NEW: Wise Buddah Mini Mix #18 – BRMB 'Birmingham' (2010) (Custom)
---
NEW: Wise Buddah Mini Mix #6 – BRMB 'Birmingham' / Mercia (2010) (Custom)
---
NEW: BRMB 'Birmingham' (2010) – News – Wise Buddah
---
NEW: Wise Buddah Mini Mix #2 – Free Radio 80s 'West Midlands' (2012) (Custom)
---
NEW: Wise Buddah Mini Mix #14 – Free Radio 'West Midlands' (2012) (Custom)
---
NEW: Wise Buddah Mini Mix #22 – Free Radio 'West Midlands' (2015) (Custom)
---