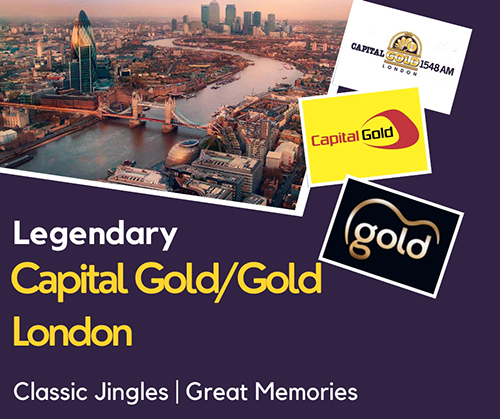 Capital Gold/Gold 'London' features some great mixes and demos of jingles produced by MMI/TM Productions, Who Did That Music, IQ Beats and more.
Note, I've also included some bits for Capital Gold Birmingham, Manchester and South Coast.
**All audio is downloadable – enjoy**
Thank you to AJ for some of the 1997 audio
---
DISCLAIMER: All audio featured on this website remains the IP of the respective companies and is protected under copyright.
---
NEW: Captal Gold 'London' (1988) – Demo – MMI & TM Productions
---
NEW: MMI Mini Mix #10 – Capital Gold 'London' (1988)
---
NEW: Capital Gold (1988) – Demo 'Deutsch Version' – Simrek (MMI & TM Productions)
---
NEW: The Gold Image Collection – Demo 'Deutsch Version' – Simrek (MMI & TM Productions)
---
NEW: Capital Gold 'London' – Sports Time Theme – 3O Secs (Lap Of Honour) – London Stadium Orchestra
---
NEW: Capital Gold 'London' – Sports Time Theme – 2 Mins (Lap Of Honour) – London Stadium Orchestra
---
NEW: Capital Gold 'London' (1994) – Demo – Who Did That Music
---
NEW: Capital Gold 'London' (1994) – In House Presentation To DJs – Bob Stewart
---
NEW: Capital Gold 'London' (1995) – Custom Add-On Cut – Who Did That Music (RARE)
---
NEW: Capital Gold 'London' (1997) – Demo – Dave Glass Productions
---
NEW: AJ Productions Mini Mix #6 – Capital Gold 'London' (1997) – Mix 1 (Composite)
---
NEW: AJ Productions Mini Mix #7 – Capital Gold 'London' (1997) – Mix 2
---
NEW: Capital Gold 'London' (1997) – News Theme Re-Mix – AJ Productions
---
NEW: Capital Gold 'London' (1997) – Hour Opener – AJ Productions
---
NEW: Capital Gold 'South Coast' (1997) – News – AJ Productions / Andrew White
---
NEW: Capital Gold 'Birmingham' – Sports Time – London Stadium Orchestra / Andrew White
---
NEW: Capital Gold 'Birmingham – Mike Hollis Breakfast Show Imaging – AJ Productions & Andrew White
---
NEW: Capital Gold 'Birmingham' – Joanne Mailing Breakfast Imaging – AJ Productions / Andrew White
---
NEW: Capital Gold 'Network' (2001) – New Years Eve Imaging – AJ Productions / Andrew White
---
NEW: Capital Gold 'Manchester' (2002) – Opening Sequence & Jingles – AJ Productions / Andrew White
---
NEW: Vibe Mini Mix #7 – Capital Gold 'Network' (2002) (Custom)
---
NEW: Capital Gold 'Network' (May 2002) – Demo – Vibe Music & Audio Imaging
---
NEW: Capital Gold 'Network' (2002) – Wimbledon Imaging – Andrew White
---
NEW: Capital Gold 'South Wales' (3rd April 2003) – Aircheck
---
NEW: Capital Gold 'Network' – Mike Osman End Song (2003)
---
NEW: Gold (2009) – Demo – IQ Beats
---
NEW: IQ Beats Mini Mix #22 – Gold (2009)
---
NEW: Gold 2 (2010) – Demo – IQ Beats
---
NEW: IQ Beats Mini Mix #23 – Gold (2010)
---
NEW: Gold 3 (2012) – Demo – IQ Beats
---
NEW: IQ Beats Mini Mix #24 – Gold (2012)
---