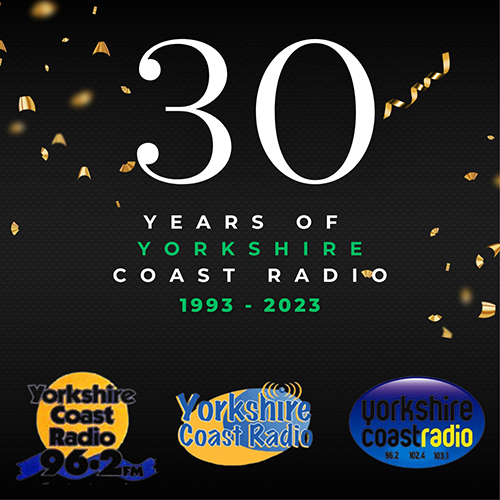 Yorkshire Coast Radio launched 30 years ago on 7th October 1993 broadcasting local programmes from 6am-10pm each day with overnight output simulcast from neighbouring Minster FM.
On 7th November 1999, Yorkshire Coast Radio expanded after they were awarded the licence to broadcast to the neighbouring Bridlington area. The station operated as a 'part-time' opt-out of Yorkshire Coast Radio and was called Yorkshire Coast Radio 'Bridlington'.
Yorkshire Coast Radio broadcast to Scarborough and Filey on 96.2 FM, Bridlington on 102.4 FM and Whitby on 103.1 FM.
On 17th February 2015, Yorkshire Coast Radio launched a DAB simulcast on the MuxCo North Yorkshire multiplex. In the official RAJAR audience data for Q2 2018, Yorkshire Coast Radio achieved a 53% weekly reach, which is higher than any other radio station in the UK!!
On 1st September 2020 the station became part of the Greatest Hits Radio network.
Yorkshire Coast Radio features some great mixes and demos of jingles produced by Airforce, JAM Creative Productions, Wise Buddah and more.
Note: More jingles and imaging will be added when they have been digitised.
**All audio is downloadable – enjoy**
---
DISCLAIMER: All audio featured on this website remains the IP of the respective companies and is protected under copyright.
---
NEW: Yorkshire Coast Radio (1993) – Demo – Airforce
---
NEW: Airforce Mini Mix #3 – Yorkshire Coast Radio (1993) (Composite)
---
NEW: Airforce Mini Mix #17 – Yorkshire Coast Radio (1994) – 103.1 Whitby Add-Ons (Composite)
---
NEW: JAM Mini Mix #279 – Yorkshire Coast Radio (1997) (Ready Mix)
---
NEW: Yorkshire Coast Radio (1997) – Imaging & Sweepers – Greg Marsden & JAM Creative Productions
---
NEW: Yorkshire Coast Radio (1999) – Demo (Way Ahead) – Steve England
---
NEW: Steve England Mini Mix #10 – Yorkshire Coast Radio (1999) (Custom – Way Ahead)
---
NEW: Yorkshire Coast Radio (2002) – Demo (RIL Package A) – Bespoke Music
---
NEW: Bespoke Music Mini Mix #22 – Yorkshire Coast Radio (2002) (RIL Package A)
---
NEW: Bespoke Music Mini Mix #21 – Yorkshire Coast Radio (2002) (RIL Christmas 2002)
---
NEW: Bespoke Music Mini Mix #20 – Yorkshire Coast Radio (2007) (TLRC 2007)
---
NEW: Yorkshire Coast Radio (March 2007) – The Gold Coast Sweepers – Chris Marsden & Emma Clarke
---
NEW: Wise Buddah Mini Mix #30 – Yorkshire Coast Radio (2009) (EZ Rock)
---
NEW: Wise Buddah Mini Mix #31 – Yorkshire Coast Radio (2011) (Boom 973)
---
NEW: Wise Buddah Mini Mix #32 – Yorkshire Coast Radio (2017) (AC+)
---