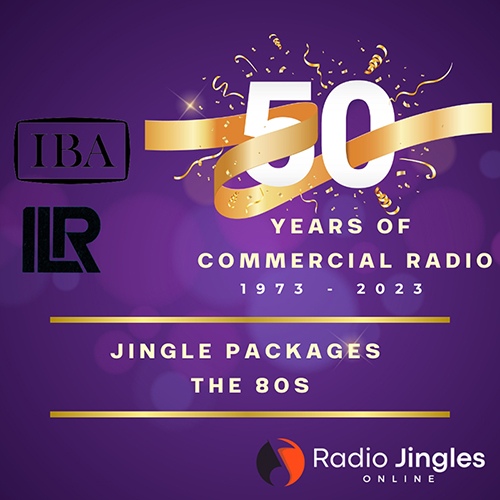 The 80s saw the launch of many great commercial radio station including 2CR, County Sound, Devon Air, Essex Radio, GWR Radio, Fox FM, Ocean Sound, Power FM, Radio Mercury, Radio West, Red Dragon Radio, Red Rose Radio, Signal Radio and Southern Sound.
Radio stations in the 80s had jingles from companies including Airforce, Alfasound, David Arnold Music, MMI and Sue Manning. Below are some great examples of 80s jingle packages for a wide range of radio stations including a few of the first wave of classic hits AM stations.
IMPORTANT – Please check back as more packages will be added as Radio Jingles Online will be celebrating the 50th Anniversary of Commercial Radio for the next 20 days (ending 27th October)
**All audio is downloadable – enjoy**
---
DISCLAIMER: All audio featured on this website remains the IP of the respective companies and is protected under copyright.
---
NEW: David Reilly Mini Mix #1 – 2CR (1986) (Custom)
---
NEW: Thompson Creative Mini Mix #8 – Atlantic 252 (1989) (Custom)
---
NEW: MMI Mini Mix #24 – BRMB 'Birmingham' (1986) (Custom)
---
NEW: TM Productions Mini Mix #29 – BRMB 'Birmingham' (1989) (Direct Hit)
---
NEW: MMI Mini Mix #11 – Capital Gold 'London' (1988) (Custom)
---
NEW: Sue Manning Mini Mix #6 – Capital Radio 'London' (1982) (Custom)
---
NEW: MMI Mini Mix #27 – Capital Radio 'London' (1984) (Custom)
---
NEW: MMI Mini Mix #1 – Capital Radio 'London' (1987) (Custom)
---
NEW: Rockfield Studios Mini Mix #1 – CBC Radio 'Cardiff' (1980) (Custom)
---
NEW: Alfasound Mini Mix #8 – Centre Radio (1983) (Custom)
---
NEW: AJ Productions Mini Mix #17 – Chiltern Radio – The Paul McKenna Breakfast Show (1986) (Custom)
---
NEW: MMI Mini Mix #37 – Clyde 2 'Glasgow' (1989) (Custom)
---
NEW: Alfasound Mini Mix #6 – Country Sound (1986) (Custom)
---
NEW: Airforce Mini Mix #10 – Essex Radio (1987) (Custom)
---
NEW: Alfasound Mini Mix #1 – Fox FM 'Oxfordshire' (1989) (Custom)
---
NEW: David Arnold Music Mini Mix #1 – GWR Radio (1988) (Custom)
---
NEW: Radio Operators Mini Mix #1 – Hereward Radio (1980) (Custom)
---
NEW: TM Productions Mini Mix #3 – Horizon Radio (1989) (Composite)
---
NEW: Highland Recordings Mini Mix #1 – Moray Firth Radio (1982) (Custom)
---
NEW: MMI Mini Mix #17 – Northsound Radio (1984) (Custom)
---
NEW: Airforce Mini Mix #11 – Piccadilly Radio (1987) (Custom)
---
NEW: AJ Productions Mini Mix #21 – Power FM – Presenter IDs (1988) (Custom)
---
NEW: Crocodile Music Mini Mix #1 – Radio Aire (1981) (Custom)
---
NEW: MMI Mini Mix #16 – Radio Aire (1987) (Custom)
---
NEW: David Arnold Mini Mix #33 – Radio Broadland (1987) 'FM 102 Add-Ons' (Custom)
---
NEW: MMI Mini Mix #21 – Radio Clyde 'Glasgow' (1984) (Custom)
---
NEW: Highland Recordings Mini Mix #2 – Radio Forth (1981) (Custom)
---
NEW: Sue Manning Mini Mix #8 – Radio Hallam (1981) (Custom)
---
NEW: Tuesday Productions Mini Mix #1 – Radio Luxembourg (Mid 1980s) (93 KHJ)
---
NEW: George Acogny Mini Mix #1 – Radio Luxembourg (1987) (Custom)
---
NEW: Alfasound Mini Mix #10 – Radio Tay (1984) (Custom)
---
NEW: David Arnold Mini Mix #17 – Radio 210 (1986) – The DJs (Custom)
---
NEW: David Arnold Mini Mix #31 – Radio Mercury (1984) (Custom)
---
NEW: TM Productions Mini Mix #26 – Radio West (1983) (Airworks)
---
NEW: MMI Mini Mix #13 – Radio Wyvern (1982) (Custom)
---
NEW: MMI Mini Mix #2 – Red Dragon Radio (1989) (Custom)
---
NEW: Sue Manning Mini Mix #1 – Red Rose Radio (1986) (Custom)
---
NEW: LBS Mini Mix #1 – Saxon FM 'Suffolk' (1988) (Custom)
---
NEW: TM Productions Mini Mix #12 – Severn Sound (1988) (Power Play)
---
NEW: Century 21 Mini Mix #10 – Signal Radio (1989) (Composite)
---
NEW: David Arnold Mini Mix #16 – Southern Sound (1989) (Custom)
---
NEW: LBS Mini Mix #2 – Sunset Radio 'Manchester' (1988) 'Lisa Stansfield Vocals' (Custom)
---
NEW: LBS Mini Mix #5 – The Gold AM (1988) (Composite)
---
NEW: TM Productions Mini Mix #32 – The Super Station (1988) (Hot Hits WTRK)
---
NEW: Cath Baxter Creative Mini Mix #1 – Viking Radio (1984) (Custom)
---
NEW: David Arnold Mini Mix #10 – Wiltshire Radio (WR) (1983) (Custom)
---
NEW: MMI Mini Mix #15 – Xtra AM – 1359 AM 'Coventry & Warwickshire' (1989) (Custom)
---