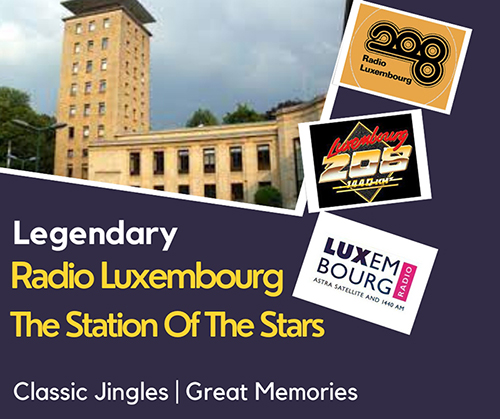 Radio Luxembourg 'The Station Of The Stars'
Radio Luxembourg was arguably the biggest commercial radio station in the world! The 'English Service' first broadcast in December 1933 and closed down on 30th December 1992.
Over the years Luxy was the home to some fantastic presenters including Barry Alldis, Noel Edmonds, Steve Wright, Rob Jones, Tony Prince, Tony Blewitt, Bob Stewart, Pat Sharp, Jessie Brandon, Neil Fox, Mike Hollis, Nik Martin, Jeff Graham, Jodie Scott, Gary King, Nick Abbott, Shaun Tilley, Chris Holmes (Chris Moyles) and countless others.
Radio Luxembourg 'The Station Of The Stars' features some great mixes and demos of jingles produced by Mark Wesley, Way Radio Productions, CPMG, George Acogny, MMI and more.
**At the bottom of this page, I have included some PAMS re-sings for 'The French Service' of Radio Luxembourg, along with some CPMG re-sings for Radio Tele Luxembourg**
**All audio is downloadable – enjoy**
Note: More jingles and imaging will be added when they have been digitised.
---
DISCLAIMER: All audio featured on this website remains the IP of the respective companies and is protected under copyright.
---
NEW: Radio Luxembourg (1960s) – Jingle Mix – Company Unknown
---
NEW: Radio Luxembourg (1968) – Jingle Mix (Colourful) – Company Unknown
---
NEW: Mark Wesley Mini Mix #1 – Radio Luxembourg (Mid 1970s) (Custom)
---
NEW: Way Radio Productions Mini Mix #1 – Radio Luxembourg (Late 1970s) (Custom)
---
NEW: Radio Luxembourg (Late 1970s) – News – Way Radio Productions
---
NEW: CPMG Mini Mix #17 – Radio Luxembourg 'RTL' (1980)
---
NEW: Radio Luxembourg (1983) – Demo – Alfasound
---
NEW ADDITION - 18th October 2023
NEW: Alfasound Mini Mix #20 – Radio Luxembourg (1983) (Custom)
---
NEW ADDITION - 18th May 2023
NEW: Radio Luxembourg – Elton John Jingle
---
NEW: Tuesday Productions Mini Mix #1 – Radio Luxembourg (Mid 1980s)
---
NEW: Radio Luxembourg (1985) – 'English Service' Close Down Sequence – Tuesday Productions / Bob Stewart
---
NEW: George Acogny Mini Mix #1 – Radio Luxembourg (1987) (Custom)
---
NEW: Radio Luxembourg (1987) – 'English Service' Start Up Sequence – George Acogny / Bob Stewart
---
NEW: Radio Luxembourg – Imaging Sampler (Late 1980s)
---
NEW: Radio Luxembourg – Station Promo (Late 1980s)
---
NEW: Radio Luxembourg (1990) – Demo – MMI
---
NEW: Radio Luxembourg (1990) – Demo 'Deutsch Version' – Simrek (MMI)
---
NEW: MMI Mini Mix #6 – Radio Luxembourg (1990) – Part #1 (Custom)
---
NEW: MMI Mini Mix #29 – Radio Luxembourg (1990) – Part #2 (Custom)
---
NEW: Radio Luxembourg (1990) – News – MMI / Bob Stewart
---
NEW: Radio Luxembourg – Station Promo (1990)
---
NEW: Radio Luxembourg – Imaging Sampler (1990)
---
NEW: Radio Luxembourg (1990) – Sweepers – Bob Stewart
---
NEW: Radio Luxembourg – Saturday Night Dance Party Promos (Early 1990s)
---
NEW: Radio Luxembourg (1992) – Demo – MMI
---
NEW: MMI Mini Mix #42 – Radio Luxembourg (1992) (Custom)
---
NEW: Radio Luxembourg – Station Closedown Promo (December 1992)
---
NEW ADDITION - 18th October 2023
NEW: The Voices Of Luxembourg Documentary (1992)
---
NEW: Radio Luxembourg (30th December 1992) – Final Link – Mike Hollis
---
NEW: PAMS Mini Mix #30 – Radio Luxembourg' France' (Early 1970s)
---
NEW: CPMG Mini Mix #18 – Radio Tele Luxembourg (1980)
---