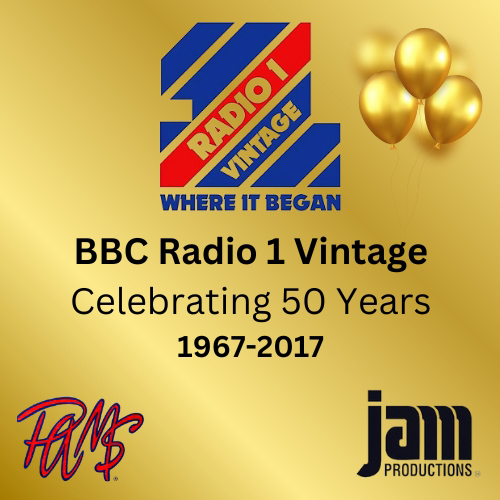 On 30th September 2017, BBC Radio 1 celebrated 50 years of broadcasting across the UK and Ireland.
As part of the 50th celebrations, BBC Radio 1 Vintage was a three day radio station that aired shows made from archive material and interviews with former Radio 1 DJs including Tony Blackburn, John Peel, Kenny Everett, Simon Mayo, Kevin Greening, David Jensen, Steve Wright, Chris Moyles, Bruno & Liz, Zoe Ball, Nicky Campbell Janice Long, Johnnie Walker and many, many more.
Below is a small selection of the audio that aired across the three days of BBC Radio 1 Vintage including some great jingles/imaging from JAM, PAMS and others.
**All audio is downloadable – enjoy**
---
DISCLAIMER: All audio featured on this website remains the IP of the respective companies and is protected under copyright.
---
NEW: JAM Mini Mix #60 – BBC Radio 1 Vintage (2017) (Inc. PAMS)
---
NEW: BBC Radio 1 Vintage (2017) – Podcast Imaging – John Wells & JAM & Others
---
NEW: BBC Radio 1 Vintage (2017) – Saturday Hour Openers (Coming Up) – John Wells & JAM
---
NEW: BBC Radio 1 Vintage (2017) – Show Openers – JAM & Others
---
NEW: BBC Radio One Vintage (2017) – Simon Mayo (Full From Playout – 1 Hour)
---
NEW: BBC Radio 1 Vintage (2017) – Sunday Hour Openers (Coming Up) – John Wells & JAM
---
NEW: BBC Radio One Vintage (2017) – The Best Of The Official Chart (Full From Playout – 1 Hour)
---
NEW: BBC Radio One Vintage (2017) – The Chris Moyles Show (Full From Playout – 1 Hour)
---