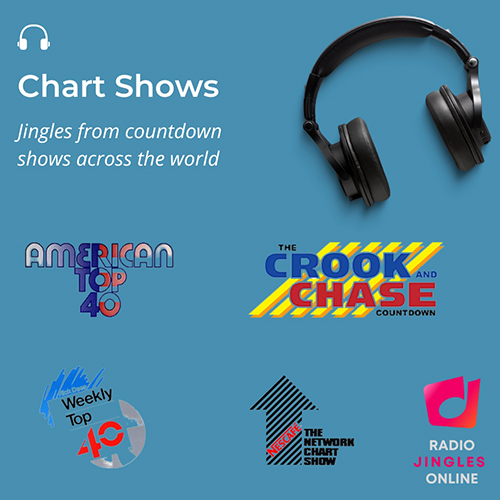 Chart Shows feature some amazing jingles for some of the biggest countdown shows across the world. Listed per show in alphabetical order by production company.
**All audio is downloadable – enjoy**
****NEW ADDITION: Rick Dees Top 40 Demo Sent To All Stations – Added – 10th March 2023****
More to be added soon……keep checking back!
---
DISCLAIMER: All audio featured on this website remains the IP of the respective companies and is protected under copyright.
---
American Country Countdown – Radioscape Music & TM Productions & Who Did That Music
---
American Top 40 (AT40) – HLC/Killer Music & JAM Creative Productions & PAMS Productions & Reelworld & TM Productions. AT40 The 70s & AT40 The 80s Demos – Premiere Network
---
Casey's Countdown – JAM Creative Productions
---
Fast Track With Dave Sholin – Thompson Creative
---
Kid Jensen's CD Countdown – Vibe Music & Audio Imaging
---
Pepsi FM's America's Choice – Sound Ideas
---
Rick Dees & The Weekly Top 10 – TM Studios
---
Rick Dees & The Weekly Top 30 – TM Studios
---
Rick Dees Weekly Top 40 – Groove Addicts & Who Did That Music
---
NEW ADDITION - 10th March 2023
Rick Dees Weekly Top 40 'All New Edition' – Scoped Demo (1994)
---
Scott Shannon's Rockin' America – JAM Creative Productions
---
Smash Hits Chart With Mark Goodier – Company Unknown
---
The Crook & Chase Countdown – TM Century
---
The Network Chart Show – HLC/Killer Music & MMI & TM Productions
---
The Pepsi Network Chart Show – Who Did That Music
---
The UK Top 40 (BBC Radio 1) – JAM Creative Productions
---