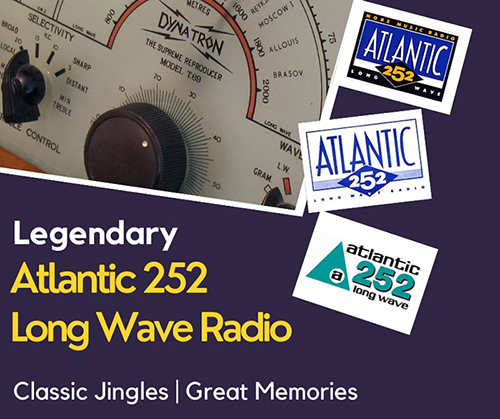 Atlantic 252 broadcast across the UK and Ireland from 1989 until 2001 on long wave (LW) and was very popular.
Presenters included Gary King, Charlie Wolf, Simon Bates (Our Tune), James Whale, Henry Owens, Robin Banks, Dusty Rhodes, Bam Bam, Hollywood Haze and many, many more.
Atlantic 252 features some great mixes and demos of jingles produced by Thompson Creative, MMI, along with liners/sweepers from the legendary Bumper Morgan.
Bonus: I've included some audio from Team Talk 252 Sports Radio, which replaced Atlantic 252, which only lasted a few months.
**All audio is downloadable – enjoy**
---
**Note: More audio to be added soon including 'On The Location' showbiz update bed based around U2's Desire song**
---
DISCLAIMER: All audio featured on this website remains the IP of the respective companies and is protected under copyright.
---
NEW: Atlantic 252 – Launch Aircheck (1st September 1989)
---
NEW/BETTER QUALITY COPY: Euro Power (Atlantic 252) (1989) – Demo – Thompson Creative
---
NEW: Thompson Creative Mini Mix #8 – Atlantic 252 (1989) (Custom)
---
NEW: Atlantic 252 (1989) – News – Thompson Creative
---
NEW ADDITION - 5th October 2023
NEW: Atlantic 252 (1990) – Demo – MMI
---
NEW: MMI Mini Mix #30 – Atlantic 252 (1990) (Custom)
---
NEW ADDITION - 14th September 2023
NEW: AJ Productions Mini Mix #19 – Atlantic 252 'Never Aired' (Custom)
---
NEW ADDITION - 14th September 2023
NEW: Airforce Mini Mix #23 – Atlantic 252 & BBC Radio One 'Never Aired' (Custom)
---
NEW: Atlantic 252 (1993) – Liners & Sweepers – Bumper Morgan
---
NEW ADDITION - 25th June 2023
NEW: Atlantic 252 (1993) – Promos & Sweepers – Henry Owens & Bumper Morgan
---
NEW ADDITION - 25th June 2023
NEW: Atlantic 252 (1993) – The Top 7 At 7 Countdown Bed Voiced By Bumper Morgan
---
NEW: Thompson Creative Mini Mix #21 – Atlantic 252 'Long Wave Radio' (1996) (Chicago's Dance Beat)
---
NEW: Thompson Creative Mini Mix #26 – Atlantic 252 (1996) (Custom)
---
NEW: Reelworld Mini Mix #1 – Atlantic 252 (2000)
---
NEW: Team Talk 252 (2002) – Imaging Sampler – Company Unknown
---