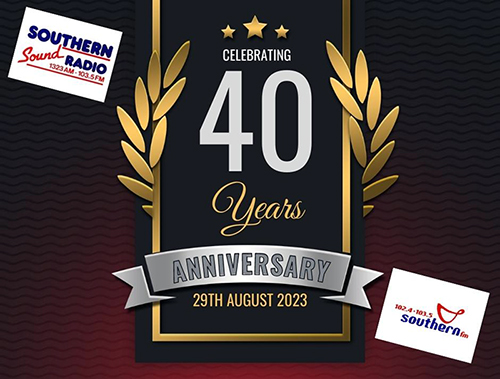 Southern Sound first launched across Sussex 40 years ago on 29th August 1983.
Over the years the station was the home to some top presenters including Chis Copsey, Russ Williams, Sean Bolger, Steve Power, Richard Gwynn, Tony Brandon, Nicky Keig-Shevlin, Ambrose Harcourt, Tommy Boyd, Rik Scott and many, many more.
Southern Sound/FM features some great mixes and demos of jingles produced by David Arnold Music, JAM Creative Productions, Groove Addicts and more.
**At the bottom of this page, I have included the 1991 package from South Coast Radio (the AM service) produced by JAM Creative Productions**
**All audio is downloadable – enjoy**
---
DISCLAIMER: All audio featured on this website remains the IP of the respective companies and is protected under copyright.
---
NEW: Southern Sound (1983) – Demo – David Arnold Music
---
NEW: Southern Sound (1985) – Demo – David Arnold Music
---
NEW: David Arnold Mini Mix #42 – Southern Sound (1985)
---
NEW: David Arnold Mini Mix #40 – Southern Sound 'Acapellas' (1985)
---
NEW: Southern Sound (1987) – Demo – David Arnold Music
---
NEW: David Arnold Mini Mix #5 – Southern Sound Radio (1987)
---
ANEW: Airforce Mini Mix #6 – Southern Sound (1987) 'Never Aired'
---
NEW: Southern Sound (1989) – Demo – David Arnold Music
---
NEW: Southern Sound – News (103.5 FM/96.9 FM) (1989) – David Arnold Music
---
NEW: David Arnold Mini Mix #39 – Southern Sound (1989)
---
NEW: David Arnold Mini Mix #41 – Southern Sound (1991) (TM Vocals)*
*Southern had a re-sing of their 1989 package in 1991 with TM Vocals, which also aired on Ocean Sound under their own name
---
NEW: TM Century Mini Mix #62 – Southern Sound (1991)
---
NEW: JAM Mini Mix #267 – Southern FM (1992) (Composite)
---
NEW: Southern FM – Travel (1993) – TM Century
---
NEW: Southern FM (1997) – Demo – Groove Addicts
---
NEW: Vibe Music Mini Mix #12 – Southern FM (2001)
---
NEW: Southern FM (January 2001) – Playlist Imaging Demo – Vibe Music & Audio Imaging
---
NEW: Southern FM (March 2001) – Playlist Imaging Demo – Vibe Music & Audio Imaging
---
NEW: Southern FM (March 2001) – Demo – Vibe Music & Audio Imaging
---
NEW: Southern FM (April 2001) – Demo – Vibe Music & Audio Imaging
---
NEW: Southern FM (June 2001) – Playlist Imaging Demo – Vibe Music & Audio Imaging
---
NEW: Groove Addicts Mini Mix # 27 – Southern FM (2003)
---
NEW: Groove Addicts Mini Mix # 28 – Southern FM (2003) 'The Big Drive Home'
---
NEW: Southern FM – Imaging Mini Mix – 29 08 23
---
NEW: On The Sly Mini Mix #5 – Southern FM (2006)
---
NEW: Music 4 Mini Mix #27 – Southern FM (2007) (One Network)
---
**BONUS**
NEW: JAM Mini Mix #182 – South Coast Radio (1991) (UK Vocals)
---