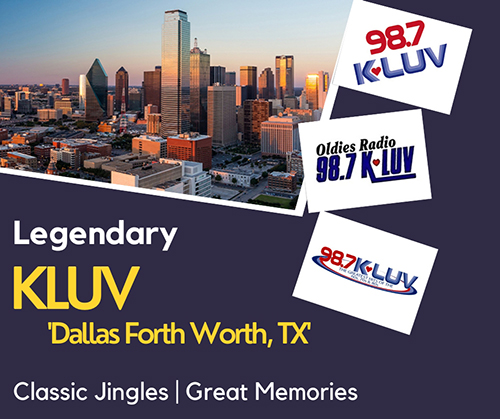 KLUV was a radio station in 'Dallas Fort Worth, TX' and broadcast from 1984 until 2023 and was regarded as one of the all time greats! KLUV's format over the years was mainly 'Classic Hits' with various decades being added and phased. For example in 2017, more 80s's music was added and 60's music was phased out aligning with WOGL (sister station in Philly).
KLUV 'Dallas Fort Worth, TX' features some great mixes of jingles produced by JAM, TM Century and more.
**All audio is downloadable – enjoy**
---
DISCLAIMER: All audio featured on this website remains the IP of the respective companies and is protected under copyright.
---
NEW: KLUV (1983) – Demo – TM Productions
---
NEW: TM Productions Mini Mix #40 – KLUV 'Dallas Fort Worth, TX' (1986) (Syncronism)
---
NEW: TM Century Mini Mix #47 – KLUV 'Dallas Fort Worth, TX' (2000) (Miami Oldies)
---
NEW: TM Century Mini Mix #58 – KLUV 'Dallas Forth Worth, TX' (2002) (Evolution)
---
NEW: KLUV (2005) – Demo – TM Century (Custom)
---
NEW: Super Hits 5 – KLUV 'Basics' (2006) – Demo – Tony Griffin Productions
---
NEW: Tony Griffin Mini Mix #8 – KLUV 'Dallas Fort Worth, TX' (2006)
---
NEW: Greatest Hits Next Generation – KLUV & CBS-FM (July 2007) – Demo – Tony Griffin Productions
---
NEW: Greatest Hits – Next Generation – KLUV 'Brass Version' (July 2007) – Demo – Tony Griffin Productions
---
NEW: Greatest Hits – Next Generation – KLUV 'Guitar Version' ('07) – Demo – Tony Griffin Productions
---
NEW: K-LUVin It (KLUV) (2012) – Demo – TM Studios (Custom)
---
NEW: JAM Mini Mix #254 – 98.7 KLUV 'Dallas Fort Worth, TX' (2013) (Shotgun Versions)
---
NEW: Aircheck Featuring JAM Jingles – KLUV 'Dallas Forth Worth, TX' (2013)
---
NEW: Reelworld Mini Mix #46 – 98.7 KLUV 'Dallas Fort Worth, TX' (2017) (K-HIts)
---