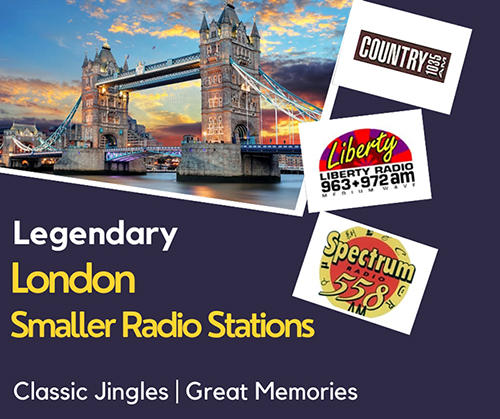 Besides the larger radio stations like Capital, LBC, Heart, Smooth, Magic and Kiss, London has had a fair number of smaller radio stations over the years and this page showcases a few of them.
Enjoy some great mixes and demos of jingles produced by JAM Creative Productions, IQ Beats, Airforce, Thompson Creative and many more.
**All Audio Is Downloadable**
---
DISCLAIMER: All audio featured on this website remains the IP of the respective companies and is protected under copyright.
---
Active FM 'East London'
---
Choice FM 'South London'
---
Country 1035 / RTL Country 1035 AM 'London'
---
Easy Radio 'London'
---
FLR 107.3 'South East London'
---
Fusion Radio 'South East London'
---
Kismat Radio 'London'
---
963 & 972 Liberty Radio 'London'
---
Premier Christian Radio 'London'
---
Radio Jackie 227 'South West London' (Pirate)
---
Radio Jackie 107.8 'South West London' (Legal)
---
Ritz 1035 'London'
---
RTM Radio 'South East London'
---
South London Radio 'South London'
---
Spectrum 558 'London'
---
Sunrise Radio 'West London'
---
Thames Radio 'South West London'
---
Time 106.8 'South East London'
---
Time 107.5 'East London'
---
Yarr Radio 'London'
---