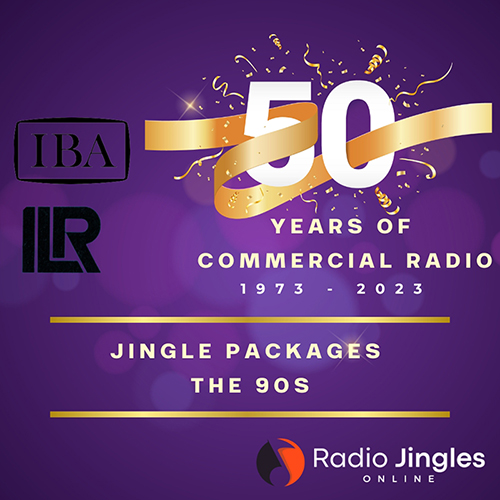 The 90s saw the launch of even more commercial radio stations including Arrow FM, KFM, Isle Of Wight Radio, Pirate FM, Ridings FM, Star FM, Yorkshire Coast Radio.
Radio stations in the 90s had jingles from companies including ALFA, JAM Creative Productions, MMI and Vibe Music & Audio Imaging for their jingles. Below are some great examples of 90s jingle packages.
IMPORTANT – Please check back as more packages will be added as Radio Jingles Online will be celebrating the 50th Anniversary of Commercial Radio for the next 20 days (ending 27th October)
**All audio is downloadable – enjoy**
---
DISCLAIMER: All audio featured on this website remains the IP of the respective companies and is protected under copyright.
---
NEW: JAM Mini Mix #8 – 2CR (1990) (Composite)
---
NEW: TM Century Mini Mix #3 – 2CR FM 'The Hit Mix' (1991) (Composite)
---
NEW: TM Century Mini Mix #33 – 210 FM (1992) (Composite / Featuring Randy Reeves)
---
NEW: ALFA Mini Mix #21 – Cheltenham Radio (1996) (Custom)
---
NEW: ALFA Mini Mix #9 – Essex FM (1996) (Custom)
---
NEW: TM Century Mini Mix #21 – Forth AM (1999) (US99)
---
NEW: JAM Mini Mix 12 – Fox FM 'Oxfordshire' (1992) (Composite)
---
NEW: ALFA Mini Mix #10 – Galaxy 101 'The Hotter Mix' (1994) (Custom)
---
NEW: Thompson Creative Mini Mix #3 – Gemini FM 'Devon' (1999) (Composite)
---
NEW: Airforce Mini Mix #2 – Isle Of Wight Radio (1990) (Custom)
---
NEW: JAM Mini Mix #272 – Key 103 'Manchester' (1990) (Composite)
---
NEW: Thompson Creative Mini Mix #2 – KFM 'West Kent' (1995) (Atlanta's 94Q)
---
NEW: JAM Mini Mix #227 – Lantern FM (1992) (Features Alfasound) (UK Vocals)
---
NEW: MMI Mini Mix #26 – Lite AM 'Manchester' (1996) (Custom)
---
NEW: TM Century Mini Mix #52 – Mercury Extra AM (1995) (Composite)
---
NEW: JAM Mini Mix #218 – Mercury FM – Part #1 (1995) (Composite) (UK Vocals)
---
NEW: TM Century Mini Mix #6 – Ocean Sound (1991) (Composite)
---
NEW: JAM Mini Mix #47 – Piccadilly 1152 'Manchester' (1996) (Retro Point)
---
NEW: JAM Mini Mix #250 – 103.2 Power FM 'Hampshire' (1994) (Inc. Brian James Sweepers)
---
NEW: MMI Mini Mix #42 – Radio Luxembourg (1992) (Custom)
---
NEW: JAM Mini Mix #253 – Radio Maldwyn 'The Magic 756' (1993) (Inc. Alfasound Jingles)
---
NEW: JAM Mini Mix 20 – Radio Wave (1992) (Composite)
---
NEW: JAM Mini Mix #258 – Rock FM (1995) (Composite)
---
NEW: JAM Mini Mix # 186 – 106.6 Star FM (1995) (On The Coast)
---
NEW: MMI Mini Mix #7 – Supergold (Chiltern Radio & Northants Radio & Three Counties Radio) (1991)
---
NEW: TM Century Mini Mix #10 – The World's Greatest Music Station (WGMS) (1992) (Composite)
---
NEW: MMI Mini Mix #43 – Touch Radio 'South Wales' (1997) (Custom)
---
NEW: JAM Mini Mix #209 – Viking FM (1996) (Composite)
---
NEW: Vibe Music Mini Mix #1 – Wave 105 (1998) (Custom)
---
NEW: JAM Mini Mix #37 – WFM (1999) (One Up)
---