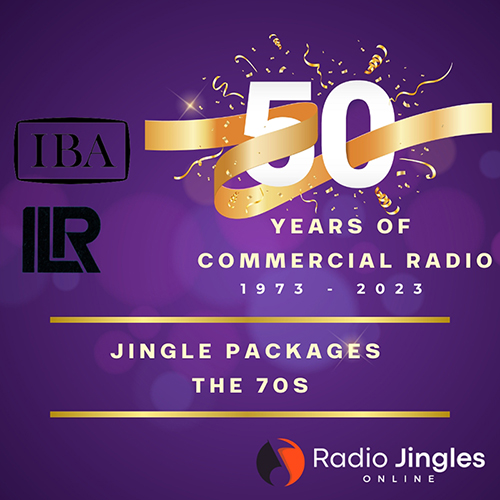 Commercial Radio in the UK started on 8th October 1973 with the launch of LBC Radio 'London' and it was followed a week later by Capital Radio 'London' on 16th October 1973. Then it was the turn of Radio Clyde, BRMB, Piccadilly 261, Metro Radio, Swansea Sound, Radio Hallam and Radio City to launch.
Other radio stations that launched in the 70s include Radio Orwell, Radio 210, Beacon 303 and Radio Forth.
Radio stations in the 70s had jingles from companies including Alfasound Tapetrix, Emison, PAMS Productions and Yamco for their jingles. Below are some great examples of 70s jingle packages.
IMPORTANT – Please check back as more packages will be added as Radio Jingles Online will be celebrating the 50th Anniversary of Commercial Radio for the next 20 days (ending 27th October)
**All audio is downloadable – enjoy**
---
DISCLAIMER: All audio featured on this website remains the IP of the respective companies and is protected under copyright.
---
NEW: Yamco Mini Mix #3 – Beacon 303 (1978) (You)
---
NEW: David Blaxhall Mini Mix #1 – BRMB (1974) (Custom)
---
NEW: Sue Mannning Mini Mix #11 – BRMB (1979) (Custom)
---
NEW: Blue Mink Mini Mix #1 – Capital Radio 'London' (1973) (Custom)
---
NEW: Swingle Singers Mini Mix #1 – Capital Radio 'London' (1973) (Custom)
---
NEW: Chris Rainbow Mini Mix #1 – Capital Radio 194 'London' (Custom)
---
NEW: PAMS Mini Mix #54 – Metro Radio (1974) (Philadelphia Story I)
---
NEW: Emison Mini Mix #2 – Metro Radio (1975) (Custom)
---
NEW: Yamco Mini Mix #1 – Metro Radio (1976) (Custom)
---
NEW: Emison Mini Mix #1 – Pennine 235 'West Yorkshire' (1975) (Custom)
---
NEW: Alfasound Mini Mix #13 – Pennine Radio 'West Yorkshire' (1979) (Custom)
---
NEW: CSS Mini Mix #1 – Piccadilly Radio 'Manchester' (1974) (Custom)
---
NEW: Yamco Mini Mix #2 – Radio City 'Liverpool' (1977) (Custom)
---
NEW: Mark Wesley Mini Mix #1 – Radio Luxembourg (Mid 1970s) (Custom)
---
NEW: Way Radio Productions Mini Mix #1 – Radio Luxembourg (Late 1970s) (Custom)
---
NEW: Johnny Arther Mini Mix #1 – Radio Trent (1977) (Custom)
---
NEW: Emison Mini Mix #5 – Radio 210 (1976) (Custom)
---
NEW: Emison Mini Mix #4 – Radio Victory (1975) (Custom)
---
NEW: Emison Mini Mix #3 – Swansea Sound (1974) (Custom)
---