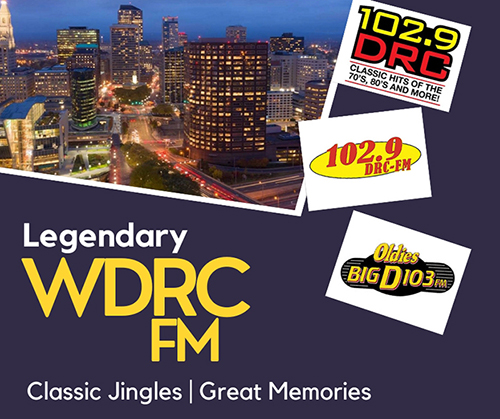 WDRC-FM 'Hartford, CT' began broadcasting in 1959 and was the first commercial FM radio station in the Hartford area. It featured various formats over the years including Top 40 and Classic Hits.
WDRC-FM features some great mixes and demos of jingles produced by CPMG, JAM, PAMS, TM Productions and more.
**All audio is downloadable – enjoy**
---
DISCLAIMER: All audio featured on this website remains the IP of the respective companies and is protected under copyright.
---
NEW: Roy Ross Mini Mix #1 – WDRC-FM 'Hartford, CT' (1962)
---
NEW: Just You & Me (WDRC-FM) – Demo – Tanner
---
NEW: TM Productions Mini Mix #24 – WDRC-FM 'Hartford, CT' (Where Your Friends Are)
---
NEW ADDITION - 3rd July 2023
NEW: PAMS Mini Mix #38 – WDRC 'Hartford. CT' (Series 27)
---
NEW ADDITION - 3rd July 2023
NEW: PAMS Mini Mix #37 – WDRC 'Hartford. CT' (Series 42)
---
NEW: PAMS Mini Mix #15 – WDRC-FM 'Hartford, CT' (Series 17) (CPMG Vocals)
---
NEW: PAMS Mini Mix #14 – WDRC-FM 'Hartford, CT' (Series 28/29/30/34) (CPMG Vocals)
---
NEW: WDRC-FM 'Hartford CT' – Acapellas – CPMG
---
NEW: Toby Arnold Mini Mix #1 – WDRC-FM 'Hartford, CT' (1981)
---
NEW: JAM Mini Mix #89 – WDRC-FM 'Hartford, CT' (1983) (Double Plus)
---
NEW: CPMG Mini Mix #2 – WDRC-FM 'Hartford, CT' (1984)
---
NEW: WDRC-FM Hartford CT (1984) – First Class Re-Sings – Full Package – CPMG
---
NEW: JAM Mini Mix #6 – WDRC 'Hartford, CT' (1986)
---
NEW: Century 21 Mini Mix #16 – WDRC-FM – Big D 103 'Hartford, CT' (1989) (Miami's WAXY)
---
NEW: Thompson Mini Mix #15 – WDRC-FM – Big D 103 'Hartford, CT' (1994)
---
NEW: The Oldies Combo (WDRC-FM – Big D 103) (1994) – Demo – Thompson Creative
---
NEW: JAM Mini Mix #158 – WDRC-FM 'Hartford, CT' (2008) (Home Of The Hits)
---
NEW ADDITION - 9th June 2023
NEW: JAM Mini Mix #167 – WDRC-FM 'Hartford, CT' – The DJ's (2012) – JAM Creative Productions
---
NEW: JAM Mini Mix #161 – WDRC-FM 'Hartford, CT' (2012) (Right Direction)
---
NEW: Right Direction (WDRC-FM) (2012) – Demo – JAM Creative Productions
---