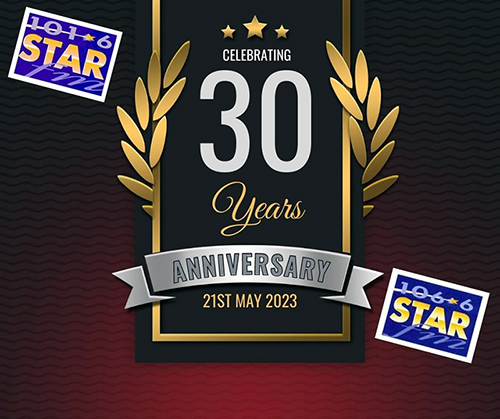 Star FM first launched on 101.6 on 21st May 1993 – 30 years ago and was one of the first UK radio stations to use a digital playout system.
Due to interference, Star FM moved up the dial to the clearer frequency of 106.6 and had their launch jingle packaged re-sung accordingly. The station was the home to some top presenters including Tony James, Peter Dickson, Carol Dooley, Simon Cummings, Paul Owens, Peter Gordon, Nick Ratcliffe and Philip Chryssikos. Plus Twinkle overnight!
Star FM features some great mixes and demos of jingles produced by JAM Creative Productions.
**At the bottom of this page, I have included Time 106.6 jingles from IQ Beats**
**All audio is downloadable – enjoy**
---
DISCLAIMER: All audio featured on this website remains the IP of the respective companies and is protected under copyright.
---
NEW: 101.6 Star FM Launch – 21st May 1993
---
NEW: JAM Mini Mix #14 – 101.6 Star FM (1993)
---
NEW: 101.6 Star FM (1993) – Station Theme – JAM Creative Productions
---
NEW: JAM Mini Mix #187 – 101.6 / 106.6 Star FM – The DJs (1993-1995)
---
NEW: JAM Mini Mix # 186 – 106.6 Star FM (1995)
---
NEW: 106.6 Star FM (1995) – Station Theme – JAM Creative Productions
---
NEW: 106.6 Star FM (1998) – Demo – JAM Creative Productions
---
NEW: JAM Mini Mix #55 – 106.6 Star FM (1998)
---
NEW: IQ Beats Mini Mix #33 – Time 106.6 (May 2006)
---
NEW: IQ Beats Mini Mix #34 – Time 106.6 News, Weather & Hour Opener Sequence (May 2006)
---