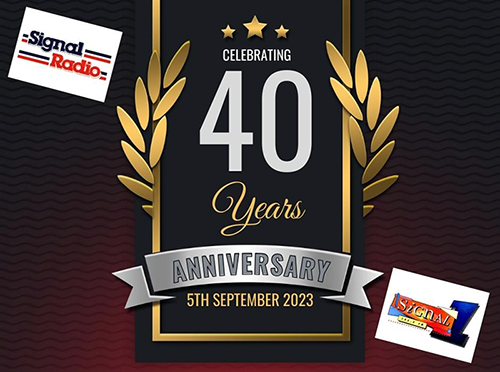 Signal Radio launched across Staffordshire 40 years ago today on 5th September 1983, the first voice to be heard was the late John Evington and the first song played was Beautiful Noise by Neil Diamond.
Signal Cheshire was launched towards the end of 1991 carrying opt-out programming from the Stoke-based service.
Signal Radio/1/Cheshire features some great mixes and demos of jingles produced by Alfasound, JAM Creative Productions, Music 4 and more.
**At the bottom of this page, I have included the 1993 package for Signal Gold from PAMS Productions**
**All audio is downloadable – enjoy**
---
DISCLAIMER: All audio featured on this website remains the IP of the respective companies and is protected under copyright.
---
NEW: Signal Radio 1 (1983) – Demo – Alfasound
---
NEW: Alfasound Mini Mix #1 – Signal Radio 1 (1983) (Custom)
---
NEW: Signal Radio 2 (1985) – Demo – Alfasound
---
NEW: Alfasound Mini Mix #5 – Signal Radio 2 (1985) (Custom)
---
NEW: Phoenix Mini Mix #2 – Signal Radio (1987) (Custom)
---
NEW: American Top 40 (AT40) – Promos For Signal Radio Voiced By Casey Kasem (1987)
---
NEW: Century 21 Mini Mix #10 – Signal Radio (1989) (Composite)
---
NEW: David Arnold Mini Mix #43 – Signal Radio (1989) (Custom News)
---
NEW: TM Century Mini Mix #63 – Signal Radio/Cheshire/Stafford (1992) (Steamroller)
---
NEW: Phoenix Mini Mix #1 – Signal Cheshire (1993) (Custom)
---
NEW: Signal Cheshire – Imaging Mix (1993)
---
NEW: JAM Mini Mix #269 – Signal 1 (1994) (Composite)
---
NEW: Signal 1 (June 2000) – Demo – Vibe Music & Audio Imaging
---
NEW: IQ Beats Mini Mix #2 – Signal 1 (2008) (UTV Custom 2008)
---
NEW: Music 4 Mini Mix #35 – Signal 1 (2012) (One Network)
---
NEW: Music 4 Mini Mix #36 – Signal 1 (2017) (Custom)
---
**BONUS**
NEW: PAMS Productions Mini Mix #2 – Signal Gold (1993) (Composite)
---